TWO-DAY NATIONAL LEVEL ONLINE CONFERENCE
ON
INNOVATIVE LEARNING ENVIRONMENTS
OBJECTIVES OF THE CONFERENCE
1.    To promote innovative and effective pedagogy in classroom
2.    To share research outcome on effective way of Teaching and Learning
3.    To explore methods of effective teaching learning at school and college level
4.    To share best teaching learning experiences by school, college and university teachers.
5.    To explore use of technology in effective teaching Learning process and its research outcomes.
SUB-THEMES OF THE CONFERENCE
Paradigm shift in Teaching Learning Process
ICT in Teaching-learning process
Experiential Learning
Self-paced learning
Virtual Learning
Blended, Flipped and Hybrid Learning
Constructivist Pedagogical Approach
Neuro Linguistic Programming
PBL- Project based Learning
Effective Measurement and Evaluation Techniques
Capacity Building Methods
Professionalism and Continuous Professional Development
Co-operative and Collaborative Learning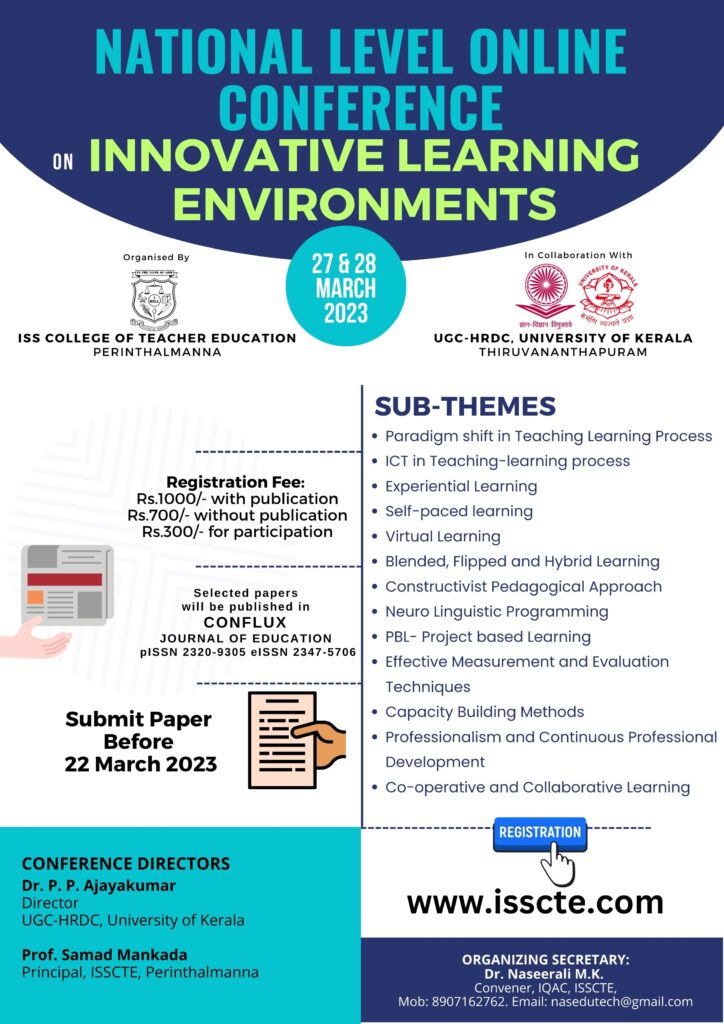 Submit your paper before
22 March 2023
PUBLICATION
Selected papers will be published in 'Conflux Journal of Education' pISSN 2320-9305 eISSN 2347-5706
WHO CAN PARTICIPATE?
·      Teachers of Universities/ Colleges/ Schools
·      Teacher Educators
·      Researchers
·      Educational Administrators
·      Prospective Teachers and Researchers
PUBLICATION
GUIDELINES TO THE PARTICIPANTS:
The paper has to be typed in Times New Roman, font size 12 and 1.5 line spacing.

The paper should be a word file with 1 and ½" margin on the left and one inch margin on the right.

The paper should not exceed 2500 words.

Manuscript should not exceed 6 pages including graphs, tables and appendices.

The first page of the manuscript must contain the title of the paper, author's name, mailing address, e-mail address and acknowledgements, if any.

Abstract and keywords must be given below the title and author's details

References should be given at the end of the paper and should be as per the APA style. All notes must be serially numbered and given at the bottom of the page as footnotes. In case of website references, the entire URL should be provided by the authors.

Online Platform Link will be provided to the participant two days prior to the Conference via mail only.

Last day to submit paper is 22 March, 2023.

In case of Joint author both the researchers need to remit the fee separately.

Selected papers will be published in Conflux Journal of Education.
Any Query? Call to
8907162762