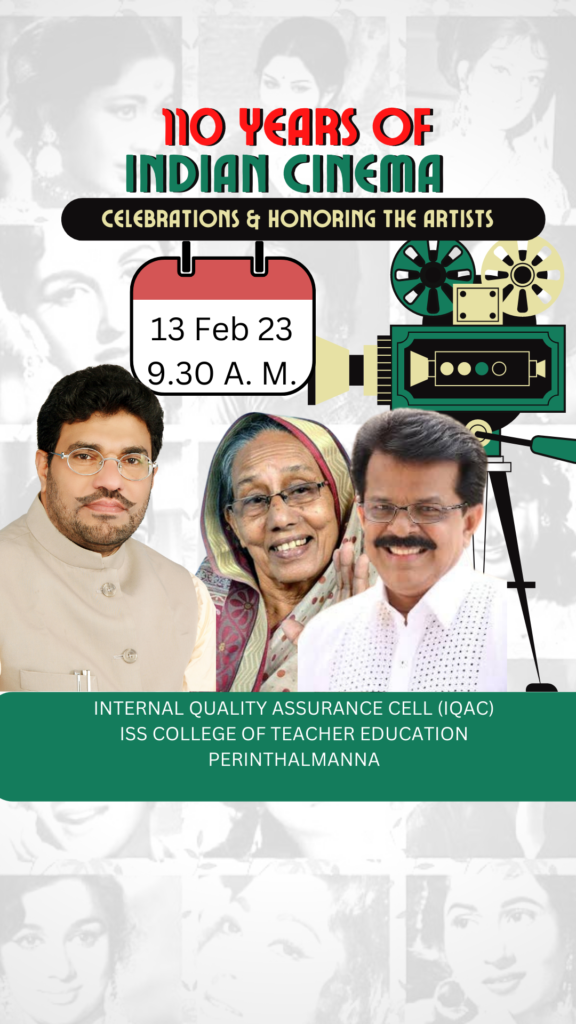 ISS College of Teacher Education in collaboration with Malayala Chalachithra Souhruda Vedi organised the Seminar cum Honouring of Talents event in connection with the 110 Years of Indian Cinema on 13 February 2023 at KMK Hall, ISS Campus, Perinthalmanna.
Dr..M.P.Abdussamad Samadani, Member of Parliament delivered the Key-note speech. He highlighted the various angles of indian movie. He then presented Memento to the selected talents from Malayalam Movie including producer, director, actor, lyricist etc. Manjalamkuzhi Ali M.L.A. was one among the talents who is a noted producer made more than 16 movies including the super hit movie 'The King'.
The other honoured talents included Smt.Nilambur Ayisha (Actress), Mr.Melattur Ravivarma (Movie Director, & Writer), Dr.V.Venugopal (Cine Artist), Mr.Prabhakaran Narukara (film Producer, Lyricist), and Adv.Fasal Haque Parambadan (Artist, & Social Activist).
The office bearers of Islamic Service Society, Perinthalmanna including Mr.Muhammedali Kallingal, Mr.C.M. Mustafa, Mr.K.P.Ummer and principal of ISS Arts and Science College Prof.P.P. Muhammed and Mr.Sayyid Shihab, Principal of ISS School honoured the talents with Shall.
The session was chaired by Dr.P.Unneen, President, Islamic Service Society. Mr.Abdussamad P., Principal, ISS CTE delivered the welcome address. Mr.Raheem Poovattuparamba of Malayala Chalachithra Souhrudavedi gave an introductory remarks to the needs for the session. Mr.Rasheed C.P., Staff Secretary, ISS CTE delivered the ote of thanks.
Faculty and Teacher Students of ISSCTE interacted with Dr.Abdussamad Samadani M.P. & Mr.Manjalamkuzhi Ali MLA.